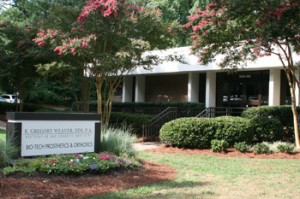 Weaver Dentistry has been keeping North Carolina's smiles healthy and beautiful since 1899. Dr. Weaver and Dr. Sykes have over 52 years of dental experience, with a specialty in Cerec crowns and cosmetic dentistry. We have three different locations including Raleigh, Cary, and Wake Forest. Each office is known for making our patients feel comfortable, safe, and well cared for.
Our office treats patients of all ages and is happy to provide comforting perks like hot towels for relaxation, a coffee and tea bar, free Wi-Fi, in addition to the most experienced dental hygienists that North Carolina has to offer. Our younger patients have their own "nook" where they can read fun books, color, and find a treasure chest full of prizes. We strive to provide the best service from the moment you walk into our office until you checkout.
Dr. Weaver and Dr. Sykes are both highly skilled with Cerec crowns, and are certified Invisalign providers. Dr. Weaver travels the country teaching other dentists the proper techniques when using Cerec technology to place beautiful, life-like crowns. Since our doctors are certified by Invisalign, we have the ability to treat patients in as little as six to eight months while still achieving the most optimal results. TruDenta has also trained and certified Dr. Weaver to treat patients suffering from headaches without the use of drugs or needles. His patients especially enjoy the long-lasting effects of their TruDenta treatments.
If you are interested in visiting our office for the first time, we are able to offer complimentary consultations for second opinions. Dr. Weaver and Dr. Sykes always will make time to go over all treatment options with their patients in order to decide upon the best route of treatment. If you're interested in scheduling an appointment with us, please reach out to any of our three locations!